Its an absolute honor and privilege for me to inform about the award |  residency |  working grant for 2014 of the Berliner Künstlerprogramm des DAAD (Deutscher Akademischer Austausch Dienst).

The Berliner Künstlerprogramm – Artists-in-Berlin Program – is one of the most renowned international programs offering grants to artists in the fields of visual arts, literature, music and film. Since 1963, some 20 grants are awarded to international artists for an approximately one year stay in Berlin. The names of over 1.000 former guests impressively underscore the quality of the program. In its almost 50 years of existence, it has made a significant contribution to the international representation of contemporary arts in Berlin.
In the 1960s and 1970s, György Kurtág, Krzystof Penderecki, György Ligeti, Isang Yun, John Cage, Morton Feldman were among the elected artists. The selection was in the 1980s expanded to represent the latest trends in electro-acoustic music and performance art in which artists such as Luigi Nono, Bill Fontana, Fast Forward, Shelley Hirsch, Fatima Miranda, David Moss, Gordon Monahan, Sainkho Namtchylak, Carles Santos, Bjørn Nørgaard, Simon Steen-Andersen.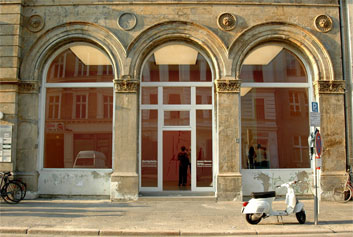 From the very beginning, the Berliner Künstlerprogramm has defined itself as a forum of artistic dialogue which extends beyond cultural, geographical and, certainly, beyond political borders. This forum is effective and vigorous not only through the work and presence of the artists living in the city, but also through the approximately 100 events a year which the Berliner Künstlerprogramm hosts in conjunction with its guests in Berlin and other cities, and not least, by the international juries of experts in the four sections who decide upon the invitations to be issued. In this way, standpoints of the international artistic avant-garde are mediated, not only in Berlin, stimulating both aesthetic and political discourse. In Berlin, the center of activities is the daadgalerie on Zimmerstraße. An interview about my work in connection to the des DAAD award  is published online by SNYK Contemporary Music and Sound Art in Denmark