As part of the Tsonami Sound Art Festival 2014 in the bohemian city of Valparaíso, Chile, a festival with a wonderful progressive independent spirit, the audio-visual collaboration NS-12, made together with Icelandic film artist Kristján Loðmfjörð (recently nominated for the Marl Video Art Award 2014 in Germany), will have its South American premiere Tuesday 2nd of December in the gallery Casa E. The piece will be installed in 5.1 version and runs during the festival until the 7th of December. A short artist statement will open the exhibition as introduction to the piece. 
Canadian sound | radio | transmission artist Anna Friz and I will have a concert | performance under the title Magnetic Meridian, an improvised concert reflecting upon the conditions of geographic and communicative remoteness, and the fragility of unstable human signals. The concert will take place in Teatro PCdV, Thursday 4th of December 19:30 hours local time.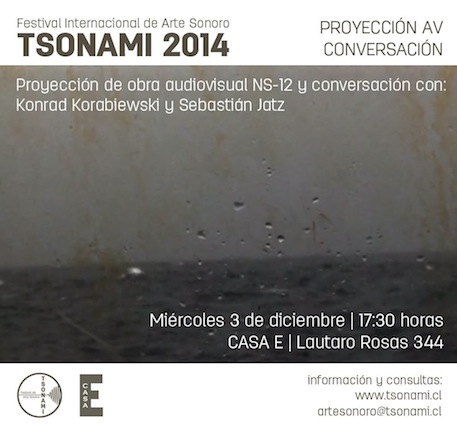 Same day, same place, only a few hours before (17:00 hours) Anna Friz and I will also have a lecture under the title The Feeling of North, introducing our current focus as curators and practicing members of Skálar | Sound Art | Experimental Music. Skálar is particularly interested to generate and support artistic practices which highlight unstable systems, open spaces to new interpretations and use, and which engage in perceptual feedback and affect between site and subject. We will discuss Skálar's activities in remote landscapes in Iceland, as well as examples of our own work such as the audio-visual collaboration NS-12 and the radio art intervention Radiotelegraph.
Among other artists performing and participating in the VIII Festival de Arte Sonoro Tsonami 2014 are Carsten Stabenow (de), Yann Leguay (be), Francisco López (es), Christian Galarreta & Janneke van der Putten (pe/nl). More info http://tsonami.cl